Laura Navarre
---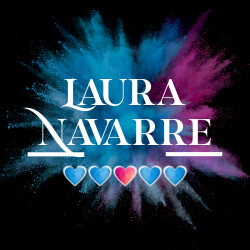 Amazon category bestselling author Laura Navarre (she/her) is the wild & witchy why-choose romance author for smart and fearless readers like you. She offers intense and steamy out-of-this world adventure with powerful heroines who don't have to choose, passionate prose that packs a punch, and enough male/male heat to set your spacesuit on fire.
A long time ago in a galaxy far away, Laura wrote dark fantasy romance for Harlequin, while her sinister twin Nikki Navarre wrote sexy spy romance. Now, with a lucky thirteen sexy stories released worldwide, this Washington, DC-based nomad writes erotic paranormal and sci fi action romance featuring bi heroes, badass heroines, and truckloads of poly heat.
Laura is a cat lover, globetrotter, wine addict, PhD student, and president of Ascendant Press. When she isn't conjuring witchy worlds, she's a diplomat with a professional background in weapons of mass destruction and an MFA in writing popular fiction. She's a 2009 Golden Heart finalist, two-time winner of the Golden Pen, winner of the Pacific Northwest Writers Association romance award and many RWA awards. She's also relentlessly obsessive, alarmingly efficient, and a recovering perfectionist. She's deeply suspicious of the Oxford comma, but she's never met an em dash she doesn't love.
Stalk Laura across the galaxy like a space pirate you're sworn to shoot from the skies! Her adventures across the witching world are trackable by witches, warlocks, humans, and aliens alike at:
http://www.LauraNavarreSciFi.com
https://amzn.to/3FrX5t7
http://www.goodreads.com/LauraNavarre
Do you love possessive alphas, sexy shifters, British bullies, teacher-student forbidden love, age gap angst, and dark witch academy reverse harem romance? Download Laura's latest sexy freebie and score monthly free reads here! { https://dl.bookfunnel.com/dz4keuv771 }
Want a free peek at Interstellar Angel? Grab the goods here: https://BookHip.com/DMHWNVT
How about some sexy space pirates? Sneak a peek at Renegade Angel here: https://BookHip.com/DBVQPHP
---